EXHIBITION CATALOGS
The Midwest Paint Group produces exhibition catalogs
for many of their shows. Pictured are examples that can
be opened into an Acrobat PDF view. Each PDF is the
complete catalog. All our catalogs include essays written
by important and interesting critics, authors and artists.

Past essayists:

David Schenck Ph.D.
Realism and its Discontents

Lance Esplund
Enduring Figures

John Goodrich
New Visions of Figurative Painting

Walter King
Perception: The Eye of the Storm

Gabriel Laderman
An Exhibition of Mid Western Post Abstract Art

In many of our exhibitions we include distinguished
guest artists. Past show have included:
Wilbur Niewald
Ruth Miller
Gabriel Laderman
Al Kresch
George Rose
Leland Bell
Stanley Lewis
Lester Goldman
Michael Walling
Martha Armstrong
Don Southard
Ying Li
Don Beal
Simon Carr
Henry Finkelstein
John Goodrich
Mark laRiviere
Thaddeus Radell

---
Works from Perception.
Sheldon Swope Museum of Art,
Albrecht-Kemper Museum of Art,
George A. Spiva Center for the Arts
6 x 9 inches, 28 pages

---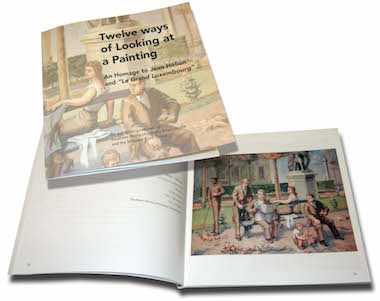 Twelve ways of Looking at a Painting –
An Homage to Jean Helion and "Le Grand Luxembourg"
An exhibition of Jean Helion with the Midwest Paint Group
Southern Illinois University Edwardsville
Lovejoy Library, October 17th, 2013 – Ongoing

$10.00 softcover 8 x 8 inches amazon.com
$24.99 softcover 10 x 8 inches blurb.com
$67.99 hardcover 12 x12 inches blurb.com

---
East meets Midwest.
The Beverly Art Center,
Hoffman-LaChance Contemporary,
Westbeth Gallery,
College of William & Mary, Williamsburg
6 x 9 inches, 28 pages

---

EXHIBITION PROPOSALS
The Midwest Paint Group offers exhibition opportunities to
galleries as a part of a curated show or as a new/custom
exhibition for a specific venue.
We are open to discussion for those interested in sponsoring a
Midwest Paint Group exhibition. We have ongoing exhibitions in
development available for your consideration.

We provide Pprofessional proposals booklets along with a letter
outlining our exhibit concept, a CD with representative examples of
participant work, and a few sample catalogs to use as examples of
past shows. Exhibit installation photography is also available.

For more information please contact:
Timothy King
Midwest Paint Group
Exhibitions Director
847-791 1196
t_king_design@hotmail.com

---
Realism and Its Discontents.
Wright State University,
Manchester University
6 x 9 inches, 32 pages

---
The Figure.
Leedy-Voulkos Art Center,
The University of Tulsa,
Ithaca College
6 x 9 inches, 32 pages

---
Post Abstract Figuration
33 Collective Gallery, Zhou B. Center
6 x 9 inches, 28 pages